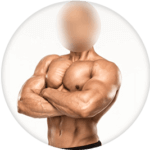 Hi! I'm a certified personal trainer and three times national champion of the International Federation of Bodybuilders (IFBB).
I've been working in the fitness industry for almost 20 years and competing on national and international stages as a bodybuilder for almost 30 years.
Between myself and my coaching partner, we represent some of the best insider knowledge for muscle building in the world. In a nutshell, we leave nothing to chance and cover very single variable vital to achieving muscular growth.
My days are happily spent teaching people how to exercise properly and develop individualized nutrition programs. My goal is to improve the health of my clients through prevention and education which will result in a longer, healthier life, and better progress in the gym.
Your success is my number one focus!
— Certified Personal Trainer